How to Study for the Slack Administrator Exam
The Slack Certified Administrator exam may seem challenging, especially if you're new to the world of Slack administration. However, it becomes much more manageable when you break it down into its individual sections. Here are some steps to guide your exam preparation and ensure you're well-prepared for success…
Get Started with the Official Slack Exam Guide
You should first get familiar with the official Slack Administrator exam guide. This gives you a great outline of all the different concepts you need to be familiar with before taking the exam. In addition, the exam guide will provide you with in-depth information about the exam format, the number of questions, how much time you're allowed, topics, and weightings.
Slack exams are made up of different topics, comprised of different weightings for each. It's important to pay attention to these as some sections may have a much higher weighting than others.
This exam is split into seven topics:
Fundamentals (9%)
Workspace Administration (9%)
Channel and User Group Administration (28%)
User Lifecycle Management (14%)
App Administration (10%)
Security (15%)
Enabling Slack Success (15%)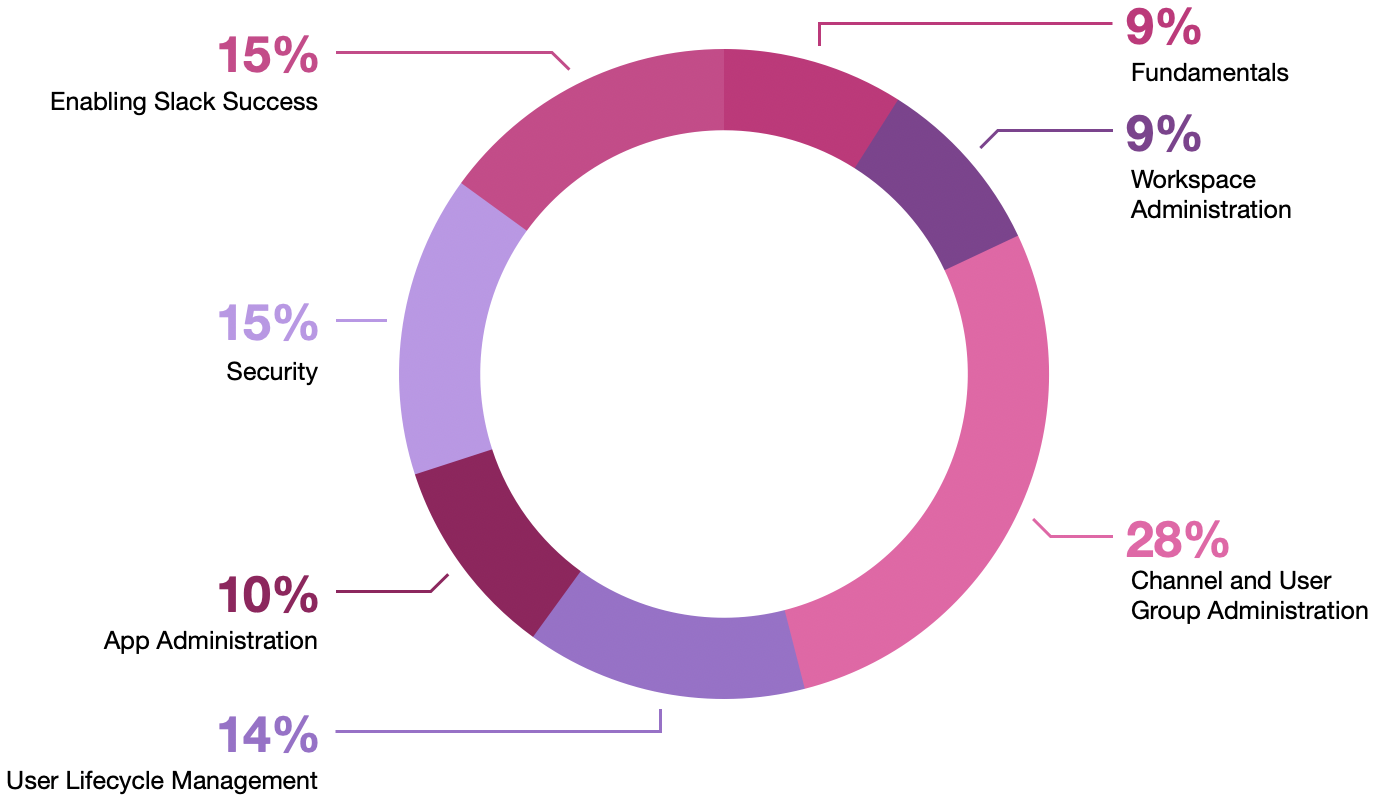 Sign Up for Slack Certified
Slack Certified, in a way, is the Slack equivalent of Trailhead. Within the Slack Certified platform, you can earn badges via Slack Skills (in a similar way to Trailhead), along with signing up for specific courses to prepare for certifications such as Slack Administrator, Slack Consultant, and Slack Developer. You can sign up to Slack Certified here.
Complete the Salesforce Ben Slack Administrator Course
In addition to the official resources from Slack, the Salesforce Ben Slack Administrator course will walk you through all the topics covered in the exam in an easy-to-understand manner, skipping the jargon. Our aim is to make it easy for everyone to learn how to be an awesome admin and pass the exam.
Assess Your Readiness with Practice Exams
Salesforce Ben offers realistic practice exams so you can assess your readiness to take the exam. Practice exams can help you identify topics you need to review further. In addition, good practice exams will help you prepare for the style of questions in the exam, the way they are written, and the type of answers you can expect.
Schedule Your Exam
You don't have to wait until you've finished preparing for the exam to schedule it! In fact, it may be worth booking your exam in advance to give yourself a deadline to work towards. How long it takes you to prepare for the exam will vary widely depending on your existing experience and how much time you have to study. This exam covers a lot of functionality, so be sure to give yourself plenty of time.